SGT JAS R F RESTON 6TH A.&.S.H.
1583 Lance Sergeant James Ramsay Farquhar Reston
1st/6th Battalion, Argyll & Southern Highlanders

killed in action 20th June 1915

aged 24


Pont-du-Hem Military Cemetery, La Gorgue
Freeland Church Memorial, Bridge of Weir



Son of James Reston and Marion Cowan
1 Windsor Place, Main Street, Bridge of Weir
---
His Life
James was born on 22nd October 1890 in Buenos Aires, Argentine. He was baptised on 22nd November 1890 in St. Andrew's Presbyterian Church. He was to be the first of six surviving children of James Reston (29) of Glasgow, a plumber, and Marion Cowan (22) from Ochiltree, Ayrshire.
Before their second child Mary was born in about 1893 they had returned to Scotland, and were living in Mauchline, Ayrshire. By 1901 the Reston family of six was in the Old Garden House, Kilbarchan. James senior was a plumber.
In 1911 the family of eight was living in a 4-roomed flat in 1 Windsor Place, Main Street, Bridge of Weir. James senior was by then a telephone fitter with the National Telephone Co., James junior (20) was an apprentice iron moulder, Mary was a telephone operator, and Hugh was a Post Office telegraph messenger.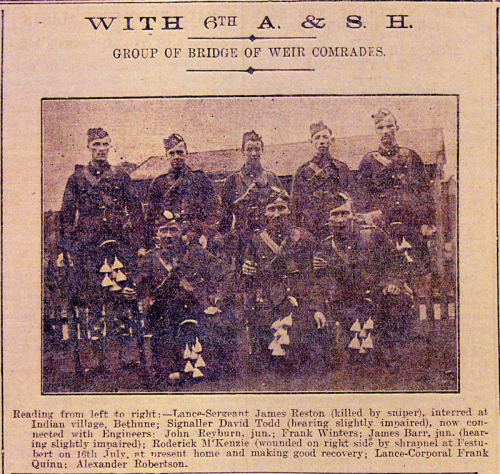 James enlisted with the 1/6th (Renfrewshire) Battalion, Argyll and Sutherland Highlanders soon after war began. The 1/6th Argylls initially formed part of the 1st Highland Brigade, Highland Division, which in May 1915 was retitled to 152nd Brigade, 51st (Highland) Division. It was a popular battalion for Bridge of Weir, and a photograph, probably taken at Bedford Camp, of eight serving Bridge of Weir comrades was published in July 1915 after James had been killed. Hugh volunteered for the Gordon Highlanders.
After training in Bedford, the 1/6th Argylls first joined the theatre of war on 1st May 1915 when it disembarked from the SS Victoria at Boulogne. After a week in bivouacs undergoing general training the batallion was placed on notice to join the general reserve, and by 22nd May it was billeted at Dissaux Michez Farm near La Couture. On 23rd May it suffered its first casualties in the trenches when three men were killed by shrapnel. On 6th June the 1/6th Argylls were posted to reserve trenches at Festubert in the Pas-de-Calais, mainly occupied in repairing earthworks and improving the trenches, often under heavy shell fire. Sometime in this period James was promoted to Lance Sergeant. On 10th June, the battalion was relieved by the 1/8th Argylls, the battalion in which John Lauder, the son of music hall entertainer Sir Harry Lauder, was then a Lieutenant. (Captain John Lauder was to be killed on 28th December 1916 in circumstances that have invited speculation that he may have been shot by one of his own men). On 14th June the battalion returned to the front line trenches at La Quinque Rue and on 15th June a party of 80 NCOs and men attacked enemy trenches, an action for which Private William Carlile was nominated, unsuccessfully, for a Victoria Cross, while 50 men repaired a communications trench and Orchard parapet and 15 men completed a dressing station at Brewery. Although the battalion was relieved again by the 1/8th Argylls on the 17th June, it was ordered immediately to move in relief of 5th & 6th Seaforths in the Fire Trenches.
After an active few days of working parties under machine gun and shell fire, Lance Sergeant Reston was shot dead by a sniper on 20th June as he was leaving the firing lines of the trenches, barely seven weeks after he had arrived in France. The battalion suffered 16 killed and 62 wounded between 14th and 20th June. James's burial place at La Gorgue is about 10 miles west of Loos. His body, with another 19 British soldiers, was re-interred from its original burial place at Festubert.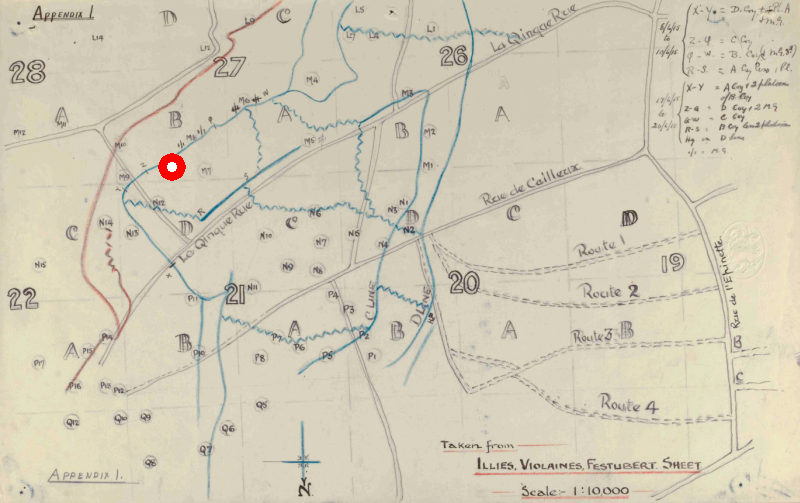 The 1/6th Argyll & Sutherland Highlanders trench map for their deployment near Festubert from 18-20 June 1915. Note North is downwards. James Reston was shot somewhere on the front line trenches as he left the firing lines.
---
Siblings
| 1901 Census | | 1911 Census | | Birthplace |
| --- | --- | --- | --- | --- |
| Name | Age | Name | Age | |
| James F | 10 | James C F | 20 | Buenos Aires, Argentina |
| Mary F | 8 | Mary F | 18 | Mauchline, Ayrshire |
| Hugh F | 4 | Hugh F | 14 | Mauchline, Ayrshire |
| Janet F | 1 | Jessie F | 11 | Mauchline, Ayrshire |
| | | Minnie F | 9 | Kilbarchan, Renfrewshire |
| | | Margaret F | 2 | Kilbarchan, Renfrewshire |
---
Sources
Transcript of James Reston birth and baptism, page 99. St. Andrews Presbyterian Church, Buenos Aires. Accessed 25 January 2014.
1901 UK Census: Parish: Kilbarchan; ED:1; Page:7; Line:10; Roll: CSSCT1901_200.
1911 UK Census: Parish: Kilbarchan; Ward: Bridge of Weir. page 18 lines 1-8. 559/0B 002/00 018.
Ancestry.com UK, Outward Passenger Lists, 1890-1960 [database on-line]
Unit War Diaries: 6th Battalion Argyll and Sutherland Highlanders. WO95/2865/1. March 1915-June 1916
TRENCHES: FESTUBERT (LA QUINQUE RUE):


19 June 1915:
3pm: A. Coy. moved into Indian Communication Trench and D. Coy. closed to allow our guns to bombard M10 from 3pm to 6pm. Vacant trenches re-occupied immediately after bombardment. Enemy reported moving M28, K12, L23, J28. (Trench Map. FESTUBERT 1/10,000). Enemy M9. mounted 250yds W. of M15. German trenches and wire at orchard not damaged by our shell fire.
4pm: Enemy trench mortar silenced by our shell fire. Parapets at M9, M8, M6, damaged by hostile shell fire. C.R.E. [Commanding Royal Engineers] inspected work done by our men and expressed satisfaction with work done.
20 June 1915:
9am-10.30am: Bombardment of M10. continued. A & D Coys. moving as before. Support trench shelled most of the day by high explosive shrapnel.
9pm: Battalion relieved in front trenches by 8th A&S Highrs, all companies clear of front trench by 12 midnight. Companies proceeded independently to billets in second line trenches near LE TOURET at X17a (BETHUNE). Casualties for period in trenches:- Killed, 16. Wounded, 62.
Paisley and Renfrewshire Gazette
5th December 1914: ROLL OF HONOUR: 6th A. & S. H. Corporal James Reston, Windsor Place.
15th May 1915: Those serving at present in the 6th HLI Lance Corporal J Reston, Windsor Place.
26th June 1915: KILLED IN ACTION. The sad news came to the village on Thursday morning that Sergeant James Reston, A. and S.H., had been shot through the head whilst in the trenches. It appears that he had been leaving the firing lines when a bullet struck him and killed him instantly. His body was carried in the dark to the rear of the firing line, and afterwards buried along with other comrades in the soldiers' cemetery. He had seen a good deal of active service since the beginning of the war, and on one occasion had a narrow escape from being killed whilst on fatigue duty. Much sympathy is felt for his relatives, who reside at 1 Windsor-place. Another brother, Hugh Reston, is also serving with the forces.
17th July 1915:


IN MEMORY OF SERGEANT JAMES RESTON, BRIDGE OF WEIR.
BY A COMRADE

Swift as a lightning flash the bullet sped,
A treacherous shot, it pierced his head;
We mourn his loss, yet soon may meet,
For death is stalking in our beat.

Sleep, gently sleep, your fight is o'er,
No more in life - ah, nevermore!
Death was for you a painless thing;
Surely your death will glory bring.

'Midst shot and shell did duty well
Against a ruthless foe;
Ah! who'll be next we cannot tell,
Not one of us can know.

No mother's hand with loving care
To smooth your rugged bed;
You lie where other heroes sleep,
And their graves are stained with red.

He was a mother's loving boy,
A father's thoughtful son;
To manhood he had been their joy-
What victory he has won.

But now he's gone, an aching void
For ever will be there;
But his memory will be as gold,
And his deeds their loving care.

A comrade and a man he was
To them who knew him best,
A pal to trust through thick and thin:
He always stood the test.

Ah! who'll be next, God only knows,
We ask with strained voice,
Yet when it comes we will not flinch-
God grant it so, my boys.

Boys of the "Brig," you that are fit,
Why don't you join the colours?
Come out and do your little bit,
And help with many others.

But if you don't, what will you say
When your children ask, "Well, Father,
What did you do on that great day
To save us from disaster?"


J.R.
13th November 1915: Home from the trenches: Private Hugh Reston, 9th Gordons, was home this week on short leave after having been through the Battle of Loos and the capturing of Hill 70. He was in the same division as the late James Hood, and while at Festubert saw the grave of his own brother James, who was killed in the battle.
January 1916: A GRATEFUL SOLDIER: Private C. O'Neill, C Coy., 1-6th A. and S. H., has sent the following note to the seven-year-old sister of the late Sergeant James Reston 1-6th A. and S. H., who was killed by a sniper near Festubert on 20th June last:- "Dear Miss Reston, I received your wristlets, also the soap and cigarettes, and they came in very handy, for I was just newly out of the trenches, and I was a bit dirty, so I must thank you very much for them. The weather out here is very bad. It has been raining all week, and it makes things so miserable. I will conclude, thanking you once more for your kindness. - I remain, your friend, C. O'NEILL". The wristlets only left local Red-Cross headquarters a few days before Christmas, this showing with what speed soldiers' comforts are despatched to the trenches.
14th December 1918: In Memoriam: In fond and loving remembrance of our dear Mother, Marion Cowan Reston, who slept away on 14th December 1917. To memory dear. Inserted by husband, daughters and son on active service.
Glasgow Evening Times
o 26th June 1915: News has been received that Sergeant James Reston, 1/6th A. and S.H., has been shot through the head whilst leaving the firing trenches. He had been in several engagements, and ran many risks of being injured. Much sympathy is felt for his relatives, who reside at 1 Windsor Place, Bridge of Weir. Another brother, Hugh, is also serving with the colours.
TO CITE THIS PAGE: MLA style: "Bridge of Weir Memorial". Date of viewing. http://www.bridgeofweirmemorial.co.uk/profile-reston.html